News
11.02.2014
Comet Electronics presents solution to build a graphical user interface (GUI) from FTDI...
FT800 combines graphic, audio and touchscreen controllers in a compact body and a serial connection to the microcontroller. It allows the addition of a complex user interface combining graphics, animation and sound to systems built with low-end microcontrollers having I2C or SPI interface.
Key features: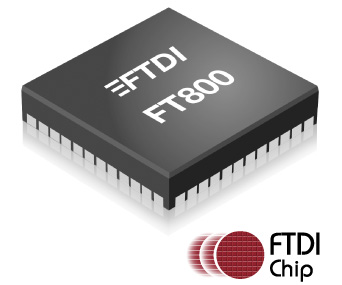 Oriented for TFT panels with resolution of WQVGA (480H272) and QVGA (320x240) with parallel RGB interface;
Support 24-bit color (true color);
Ability to store and manipulate up to 2000 object that can be graphics, fonts, sounds;
PWM control display brightness;
Built-in touch screen controller supports 4 wire resistive panels;
Lower consumption in active mode and 40mA under 250uA in idle;
Compact VQFN-48 package with dimensions 7x7mm.

Comet Electronics offers a development kit VM800 for FT800 containing 4.3 inch display.